Rescue efforts started early this morning. Teams swept through the loop recovering birds that collided with the skyscrapers as they made their migration south for the winter. The birds found alive on the street were treated at our Northerly Island Facility in downtown Chicago and over 90% were released back into the wild. This facility…
Read More...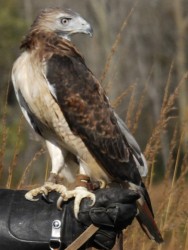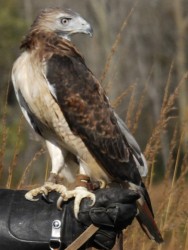 Red-tailed Hawk
Volo, a male Red-tailed Hawk, came to us imprinted on humans and with a medical condition called Metabolic Bone Disease. Volo was being raised illegally for approximately 3 weeks, with improper diet and with inappropriate contact with humans. When he arrived at Flint Creek, he was not able to stand and he was in significant pain due to calcium depletion is his joints and bones. Volo is a great example just how quickly serious and irreversible damage can occur when animals are raised illegally – even for a short time.
Volo cannot ever be released back into the wild because he is imprinted on humans.