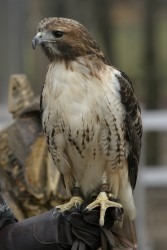 Red-tailed Hawk
Old Red, a female Red-tailed Hawk, suffered from a broken toe when she arrived into rehabilitation in 1992. Based on her chocolate brown eye color at the time of her admission, her age was estimated at at least 8 years old – meaning that her year of birth is estimated at 1984.
Old Red's toe did not heal correctly and the bones fused. She now also has septic arthritis and only has about 30% use of that foot. As a result, she would not be able to hunt successfully and is, therefore, non-releasable even though she is fully-flighted.
Old Red is the first bird that our founder, Dawn Keller, flew in programs when she was a volunteer at Spring Brook Nature Center (before founding Flint Creek Wildlife). Old Red is Flint Creek Wildlife's logo.
Old Red has made numerous television appearances and has met various celebrities including the former Chicago mayor Richard Daley.