I hate getting calls on injured raptors during nesting season. So when we received a call on an injured Great Horned Owl first thing this morning all I could think about was whether it had an active nest. If it was a female with a brood patch (an area on her lower abdomen where she…
Read More...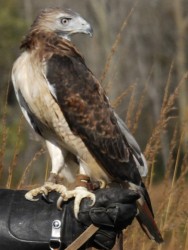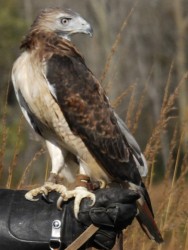 Red-tailed Hawk
Volo, a male Red-tailed Hawk, came to us imprinted on humans and with a medical condition called Metabolic Bone Disease. Volo was being raised illegally for approximately 3 weeks, with improper diet and with inappropriate contact with humans. When he arrived at Flint Creek, he was not able to stand and he was in significant pain due to calcium depletion is his joints and bones. Volo is a great example just how quickly serious and irreversible damage can occur when animals are raised illegally – even for a short time.
Volo cannot ever be released back into the wild because he is imprinted on humans.