What a beautiful day for a swan release! I couldn't be happier that Spring is almost here!! Last May, we took in a baby Swan with a broken pelvis. He was cold and covered in mud. He had been abandoned by all of the other Swans at the pond. Fortunately, a nice couple from Palatine,…
Read More...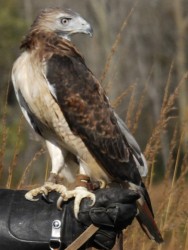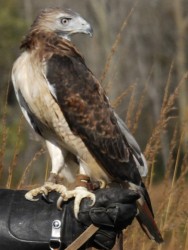 Red-tailed Hawk
Volo, a male Red-tailed Hawk, came to us imprinted on humans and with a medical condition called Metabolic Bone Disease. Volo was being raised illegally for approximately 3 weeks, with improper diet and with inappropriate contact with humans. When he arrived at Flint Creek, he was not able to stand and he was in significant pain due to calcium depletion is his joints and bones. Volo is a great example just how quickly serious and irreversible damage can occur when animals are raised illegally – even for a short time.
Volo cannot ever be released back into the wild because he is imprinted on humans.