As employees at a Barrington office building worked, they enjoyed watching the baby Cedar Waxwings grow in their nest outside a third floor window. Fledging day came with the first babies leaving the nest successfully. As the last baby fledged the nest, the employees watched in horror as the fledgling Cedar Waxwing dangled upside down from the nest, flapping in a vain attempt to free itself.
Flint Creek Wildlife was called just before 3:00 pm regarding the struggling baby bird and we were on the scene before 4:00 pm. One look revealed a desperate situation. The windows on the office building didn't open and the branches on the tree were too small to support a ladder…we were going to need the help of an outside agency if we were to save this bird.
We called the Barrington Fire Department, who kindly dispatched a truck but was unable to help with their equipment limitations. Our next call was to our friends at The Care of Trees. Charlie, our contact, told me he would check whether they could spare a truck. Charlie was afraid that a storm just passing through the area would have rendered all of their equipment unavailable. I drove to the hardware store to try and buy a pruner with extension pole just in case we needed to go to Plan C.
Before I walked in the hardware store, Charlie called back and said that The Care of Trees would be straight over. The Care of Trees arrived just after 4:30 pm. Al, one of their arborists, climbed into the bucket and maneuvered around the trees, reaching the nest. Using a pair of surgical scissors that I provided, he cut the string that tied the poor birds to its nest and safely brought the bird down to the ground. The Care of Trees arrives on the scene. Al, the arborist, is pictured. Al approaches the nest and cuts the string that is suspending baby Cedar Waxwing upside down.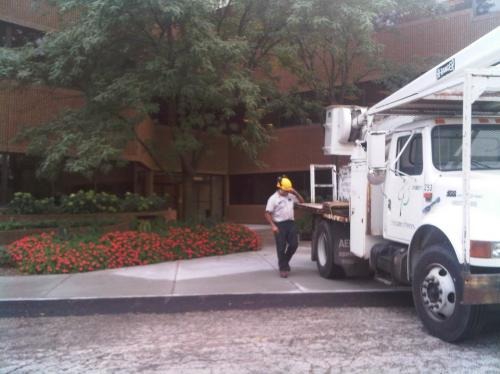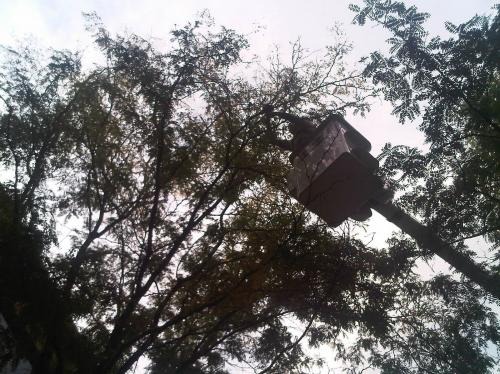 The Cedar Waxwing, who had been suspended upside down 25 feet above the cement walkway by nothing more than a string around its toe, is now safe and recovering at Flint Creek Wildlife from a minor fracture to its leg. He will eventually be released back to the wild. Al hands the Cedar Waxwing to Charlie. The Cedar Waxwing in the safety of Charlie's hands.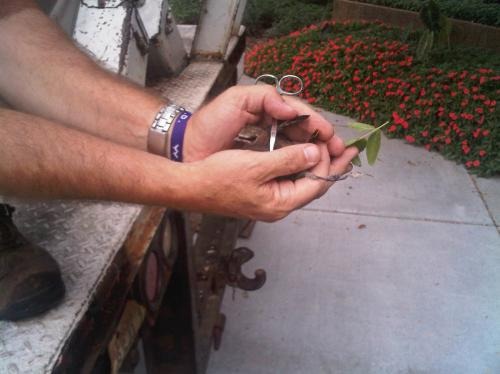 The Care of Trees is always there when we need help saving our feathered friends, whether a Great Horned Owl or a Cedar Waxwing! We cannot thank them enough for being such a group of caring individuals not to mention a company with an exemplary social conscience!