What a whirwind couple of weeks! The response regarding Flint Creek Wildlife Rehabilitation's new Northerly location has been overwhelming! The Chicago Park District and Flint Creek Wildlife Rehabilitation issued a joint press release (see post that includes the actual press release) and, before I knew it, the phone was ringing off the hook. It is…
Read More...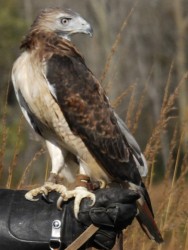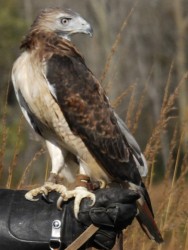 Red-tailed Hawk
Volo, a male Red-tailed Hawk, came to us imprinted on humans and with a medical condition called Metabolic Bone Disease. Volo was being raised illegally for approximately 3 weeks, with improper diet and with inappropriate contact with humans. When he arrived at Flint Creek, he was not able to stand and he was in significant pain due to calcium depletion is his joints and bones. Volo is a great example just how quickly serious and irreversible damage can occur when animals are raised illegally – even for a short time.
Volo cannot ever be released back into the wild because he is imprinted on humans.