So last Sunday we gave an educational program over at Prince of Peace Church in Elk Grove Village. The church liaison introduced us by talking about Noah and drawing some comparison between our work and Noah's work. Well, of course, the comparison was regarding working with animals, not building an ark….right?
The rains came down hard and the water level rose quickly – so quickly, in fact, that one neighbor, after finishing sandbagging his house to prevent it from taking on water, told us that earlier in the morning he was disappointed that he wouldn't be able to do yard work and now he was hoping to save his house. His next door neighbor had already been evacuated by the Itasca Fire Department because water rose above the level of the electrical outlets in their home thus rendering the home unsafe.
First thing's first, we immediately started evacuating birds. Water was up to the top of my legs in the rehab mews and flight chambers. I began grabbing birds, removing 4-5 Cooper's Hawks in the first trip and returning for others. Water was up to my mid-chest at the flight chamber housing two Long-eared Owls (a threatened species). We plucked birds from their perches and moved them to the safety of the building -now island- recognizing that a second phase of evacuation could be necessary later if the water continued its rapid rise.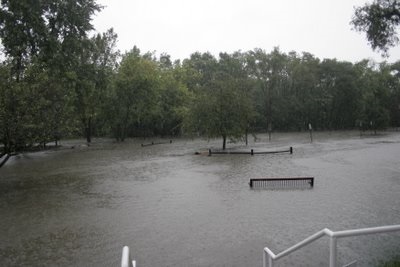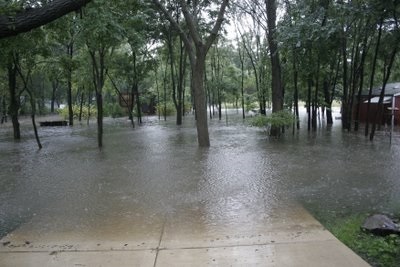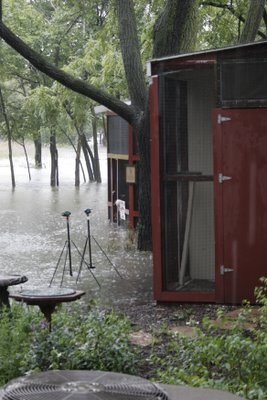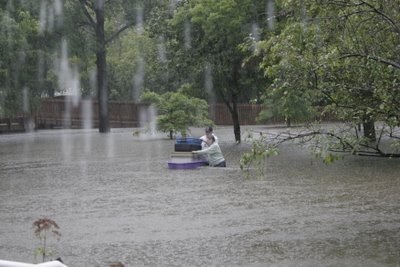 Kim, volunteer extraordinaire, bought and brought over every cardboard carrier she could find along with a bunch of large plastic tote bins, a raft and an air pump. If we end up having to evacuate the building, birds (now all currently temporarily housed in the building) will be moved in carriers and cardboard carriers loaded into tote bins, floated on the raft and kiddie pool over to our vehicles and transported to our Barrington facility.
We have spent the night at the Nature Center to monitor the situation. The water has receded rapidly over night but more rains are predicted through today. We will again stand ready to evacuate as needed but right now it looks like our evacuation may be limited to moving birds inside. Keep you fingers crossed.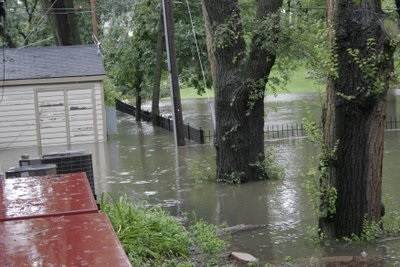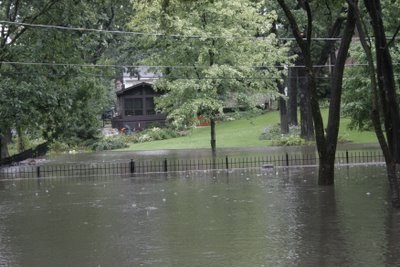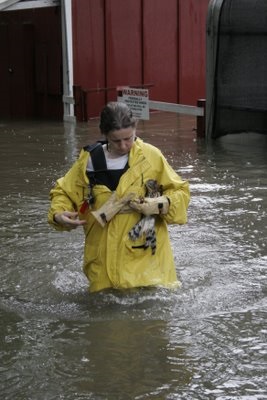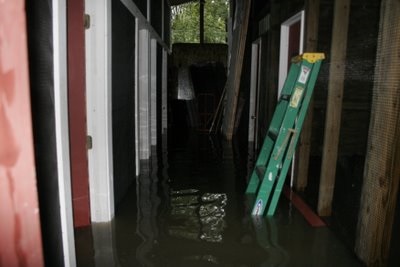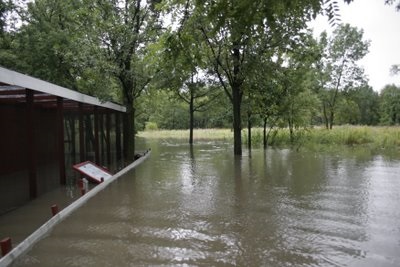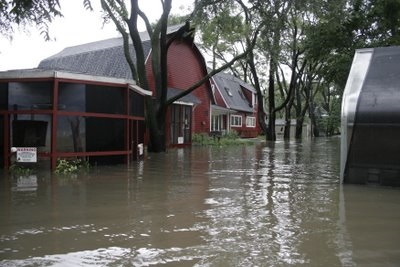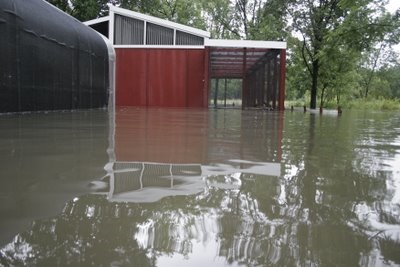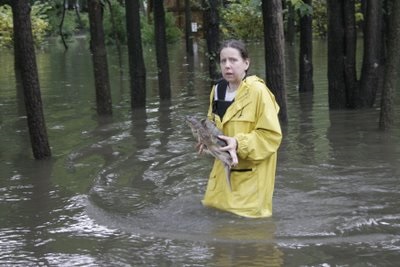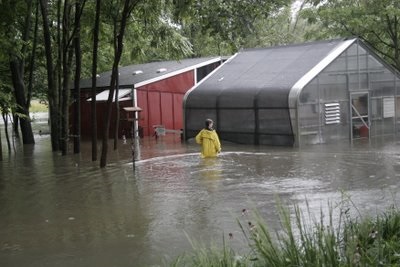 We are grateful that no animals were lost. Everyone is currently safe in the building and we stand ready to evacuate the building should it become necessary. As of now, it looks like phase 2 of the evacuation may never become necessary.
Once the water recedes, we will begin the clean up effort. All cages will be disinfected before animals can be returned to them. We will survey the damage, both to the caging and to the other supplies we've lost. The sun is rising…everyone is safe.
My thanks to our wonderful volunteers (special thanks to JC for handling phones throughout the day, Kim for wading through the water, helping all day and keeping vigil all night and Alessandra and others who offered to come out) and to the Village of Itasca who responded so well to this crisis.
Dawn